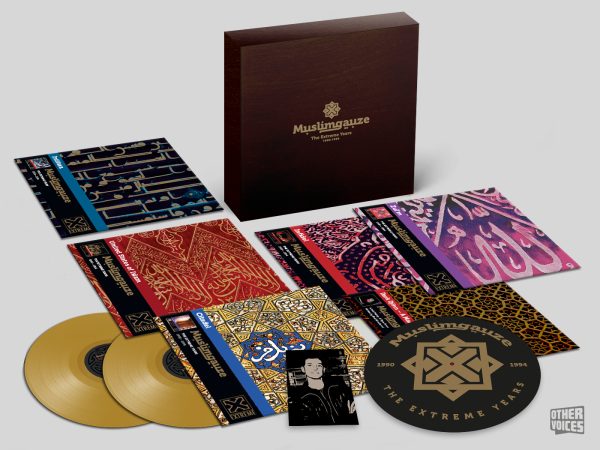 https://www.kontaktaudio.com/shop/muslimgauze-the-extreme-years-1990-1994-deluxe-boxset/
* release date : 01.01.2024
* first time ever on vinyl
* with bonus songs
* unique sleeves with special spot UV and inside print
* wooden deluxe boxset with 9 vinyls, booklet, hand numbered certificate card
* golden vinyl boxset lim.100 copies
* black vinyl boxset lim.200 copies
The original tracks were perfectly remastered for this first time ever vinyl release and the new masters received high praise from the Extreme Music owner Roger Richards.
New sleeve designs were created by Oleg Galay, who is famous for his artworks for many Muslimgauze reissues.
The boxset contains the albums:
Intifaxa 2LP (AKT16)
United States of Islam 2LP (AKT17)
Zul'm 2LP (AKT18)
Citadel 2LP (AKT19)
Infidel LP (AKT20) – not available outside the box
as well as a LP sized 8 page booklet, a pro DJ slipmat and a hand numbered certificate card, all housed in a highest quality, heavy wooden box.
All album covers are made from extra heavy cardboard with deluxe spot UV finish and inside print.