Tag Archives:
Posters
11 April 2013 – 0 h 42 min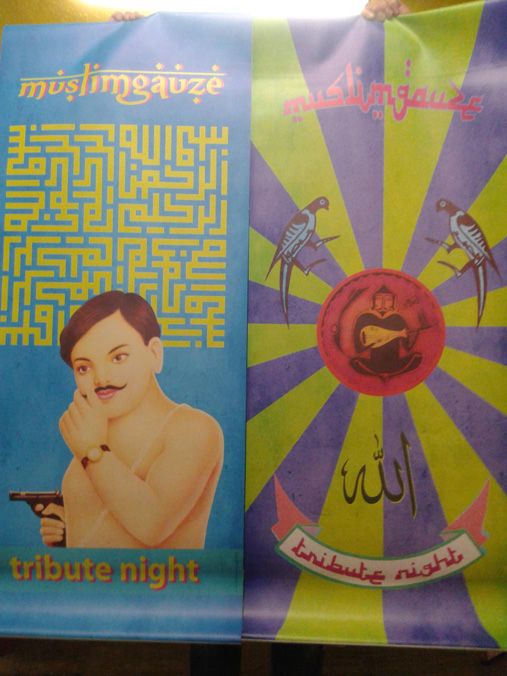 Muslimgauze tribute night (11-2012 Leeds – UK) / kakemonos.
26 January 2011 – 13 h 06 min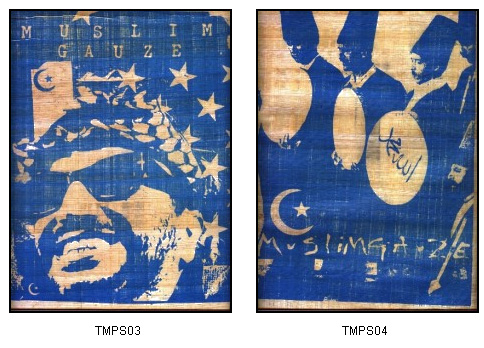 "The Muslimgauze Preservation Society proudly presents TMPS03 and TMPS04,
artwork that originated from Bryn Jones, hand-printed onto genuine papyrus
in Egypt. The artwork sources are the cover art for "Nile Quartra" (Jara,
1994) and an unreleased image in Jones' customary collage style. Not
commonly known is that Jones was professionally trained as a graphics
designer in both London and Manchester, England before going on stints as an
intern. These skills were then directly applied to Muslimgauze album
releases and handbills until signed to a label in 1990, with the exception
of /Nile Quartra/ among a couple others-which Jones was happy to produce.
The MPS approached a generations old print shop in Cairo, Egypt to dust off
their antique press machines and print off a very limited run (edition of
100 each) of Egyptian-blue prints onto high quality papyrus designed to
out-last prospective owners by a millennia or so. What better way to
preserve the legacy of Bryn Jones than onto one of history's more enduring
mediums?
Note: TMPS 04 has Islamic phrasings in Arabic hence, The Muslimgauze
Preservation Society requests buyers treat it with respect."
Posters available at Fathom,  Staalplaat & Soleilmoon.
6 October 2010 – 0 h 00 min
Limited edition hand silk screened 'retro poster' on thick manilla tag stock in a movie poster size format comprised of a compendium of Bryn's own artwork culled from album covers, handbills, zines, and unreleased graphics. All the graphics are by Bryn Jones, "remixed"  by local Toronto poster silk screen artist Michael Comeau.
The main color is black, with bits of gold, green, or brown mixed with the ink.
Limited to 300.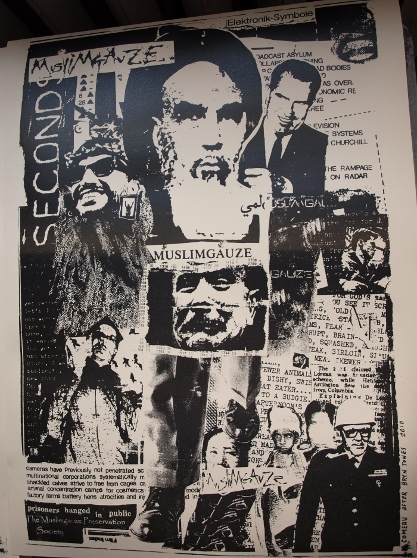 Click for larger image
More infos on the Fathom Distribution website.
Also available on Soleilmoon & Staalplaat websites.
Audio commentary by Michael Comeau : http://archive.org/details/ComeauAfterJones
31 July 2010 – 17 h 30 min
"Sound In Print" project
Carlos Segura & Joaquim Massana's entry in Chris Ashword's "Sound In Print" project. It has a simple proposition – visualise a song.
Here is the visual for 'New Iraq' by Muslimgauze (from the 1997 album 'Farouk Enjineer').
http://www.segura-inc.com/portfolio/2/poster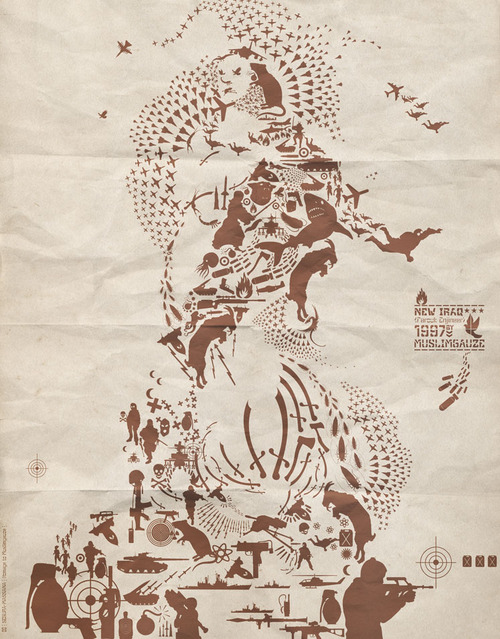 13 February 2010 – 23 h 01 min
Uzi Mahmood / posters pack / Soleilmoon