STAALPLAAT / ARCHIVE004CD
Release date : 26 april 2011.
Order on Staalplaat.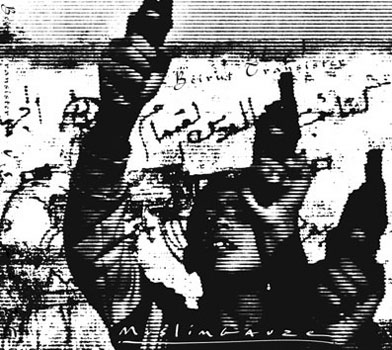 Tracklist:
1. Beirut Transister
2. Head To Toe In Morocco Leather
3. Sand Is A Problem For Bedouin Mercedes
4. Egyptian Song Contest
5. Anti Mullah Iranian Enjinnear
6. Turkish Black Sea
7. Find Yugoslav Butcher Of Muslims
8. Into Iznik
9. No News Of North Africa
10. Soufaf In Golf
11. This Veil Hides My Tears
muslimgauze – beirut transister (staalplaat) by pdis_inpartmaint
"It is definitely the ethno-electro part of the Muslimgauze catalog, I recognize parts of /Jebel Tariq/, but there are different versions of previously-released material…as if heavily spiced, and (to these ears) unreleased stuff. I like how there are some nice low-end frequencies for bass heads. This is the kind of stuff best appreciated on club speakers or cars with killer bass that bring their own earthquake. Rather than snaking bass that slithers through (like on Cobra Head Soup), this is more like listening to Muslimgauze from a Hezbollah bunker while the Israelis shell and bomb in time to the music."
I.Khider.